What's Next for Cryptocurrency
Panel: Alex Tapscott, Sandeep Nailwal, Galia Benartzi, Andrew Young
" What's Next for Cryptocurrency "
Nov. 3, 2021
---
---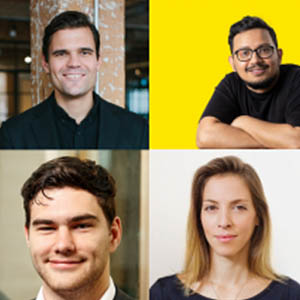 ---
Financial services, foundational to all industry, enterprise, and human economic activity, is going through the greatest upheaval since the invention of double entry bookkeeping in the Middle Ages. At the root of this Great Reformation in financial markets and the economy are blockchains, which allow us to create entirely new asset classes, business models, and governance systems for the digital age. Blockchains are the first digital medium for value, in the same way the internet was the first digital medium for information. They will reshape the future in profound ways.
Join Canadian Club Toronto on November 3 when we'll hear from Alex Tapscott and an esteemed panel of blockchain founders and thought-leaders as they discuss the latest trends and successes in this crucial and dynamic new industry. Our panelists will discuss the rise of Decentralized Finance, the role of government, bitcoin and the environment, and more.
Alex Tapscott
Managing Director, Ninepoint Partners
Alex Tapscott is an entrepreneur, writer, and seasoned capital markets professional focused on the impact of emerging technologies, such as blockchain and cryptocurrencies, on business, government, and society. Alex is the Managing Director of the Digital Assets Group at Ninepoint Partners, which manages over $6 billion. Ninepoint's flagship Bitcoin ETF (BITC-TSX) is the world's first carbon-neutral Bitcoin ETF. Alex is also the co-author (with Don Tapscott) of the critically acclaimed non-fiction best-seller, Blockchain Revolution, which has been translated into more than 15 languages and has sold more than 500,000 copies worldwide. Alex is also the editor and a co-author of Financial Services Revolution. His third book, Digital Asset Revolution, is scheduled for release in Q2/2022.
Alex is sought after world-wide for his expertise by business and government audiences. He has delivered well over 200 lectures and executive briefings to business audiences at firms like Goldman Sachs (Talks at GS), Google, and others. He is consistently ranked as a top influencer in the blockchain industry. His TedX talk, Blockchain is Eating Wall Street has been viewed over 790,000 times. Alex's writing has been featured in The New York Times, Harvard Business Review, The Globe and Mail, The National Post, TIME, Fortune, and many other publications. In 2017, Alex co-founded the Blockchain Research Institute (BRI), a global think-tank investigating blockchain strategies, opportunities and use-cases. Alex is a graduate of Amherst College (Cum Laude) and is a CFA Charterholder. He lives in Toronto.
Sandeep Nailwal
Co-Founder of Polygon
Mr. Sandeep Nailwal is an Indian entrepreneur, software developer, and co-Founder of Polygon, a blockchain protocol that is ranked in the top twenty worldwide and has a fully diluted valuation of over US$10 billion. Polygon is a Layer Two blockchain on Ethereum, allowing users to build applications on Polygon at a far lower cost than Ethereum. The valuation of Polygon's native token, Matic, has risen from a market capitalization of less than US$26 million, at inception in 2019, to over US$10 billion today. Mr. Nailwal is also the Founder of India's Crypto Covid Relief Fund, which incredibly, has raised over US$1 Billion in less than 12 months.
Galia Benartzi
Co-Founder of Bancor
Ms. Galia Benartzi is the co-founder of Bancor, the world's first open-source protocol ensuring on-chain liquidity between any blockchain-based asset, and the inventor of the Automated Market Maker, now a building block of Decentralized Finance (DeFi). More than $2 billion in token conversions have been processed via Bancor, as the protocol impacts organizations and people across the globe, from blockchain teams to real-world communities issuing local currencies. Galia was recognized by Forbes and Glamour Magazine as a leading woman in crypto; she has been featured on BloombergTV and CNBC, and has spoken at the United Nations, TEDx and the Oslo Freedom Forum on monetary theory and innovation. She was a Venture Partner at Peter Thiel's Founder's Fund, a founding member of Summit Powder Mountain, and the organizer of Bretton Woods 75, a commemoration event evaluating the historic monetary accords.
Andrew Young
CEO of Layer2 and Co-Founder of SX Network
Andrew Young is the CEO of Layer2, a DeFi investment firm, and is also a co-founder of SX Network, a leading DeFi prediction market and blockchain platform with dozens of projects and applications being built on it. Andrew is an experienced and accomplished cryptoasset and blockchain entrepreneur. Andrew is sought out for his expertise and has appeared regularly on DeFi and blockchain related podcasts and interviews, and often publishes research reports in the cryptoasset industry. Together with Alex Tapscott, Andrew Co-hosts the DeFi Decoded podcast which explains in terms everyone can understand why DeFi is transforming money, business and the world.
---
Click on the podcast icon to get the podcast:
Listen to the audio below:
---