Virtual Event: David Dodge
Senior Advisor, Bennett Jones LLP
" The Canadian Economy – What Should Be Next? "
Oct. 27, 2021
---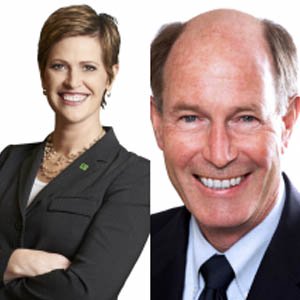 ---
Join Canadian Club Toronto to hear from David Dodge one of Canada's most revered economic sages and former Governor of the Bank of Canada in conversation with Kim Parlee, Vice President, TD Wealth to discuss debt ratios, economic policy, what should be next on Canada's economic agenda and more. We look forward to hosting you online.
David A. Dodge
Senior Advisor, Bennett Jones LLP
A native of Toronto, Mr. Dodge received a bachelor's degree (honours) from Queen's University, and a PhD in economics from Princeton.
During his academic career, he taught economics at Queen's University; at the School of Advanced International Studies, Johns Hopkins University; at the Faculty of Commerce at the University of British Columbia; and at Simon Fraser University. He also served as Director of the International Economics Program of the Institute for Research on Public Policy. Mr. Dodge has been awarded honorary degrees from a number of Canadian universities. In 2009, he was elected a fellow of the Royal Society of Canada.
During a distinguished career in the federal public service, Mr. Dodge held senior positions in the Central Mortgage and Housing Corporation, the Anti-Inflation Board, and the Department of Employment and Immigration. After serving in a number of increasingly senior positions at the Department of Finance, including that of G-7 Deputy, he was Deputy Minister of Finance from 1992 to 1997. In that role, he served as a member of the Bank of Canada's Board of Directors. In 1998 he was appointed Deputy Minister of Health, a position he held until his appointment as Governor of the Bank of Canada.
Mr. Dodge, appointed Governor of the Bank of Canada, effective 1 February 2001 for a term of seven years, retired on 31 January 2008. From my 2008 to June 2014, he served as Chancellor of Queen's University. From 2009 to 2015, he was a member of the board of directors of Canadian Utilities Limited, ATCO Limited arid the Bank of Nova Scotia.
Mr. Dodge is Senior Advisor at Bennett Jones LLP one of Canada's leading law firms. He also serves on the boards of the Canadian Institute for Advanced Research, Ri.skThinking.AI, and Chairs the National Council of the C.D. Howe Institute.
Kim Parlee
VP TD Wealth & Host of MoneyTalk on BNN Bloomberg and CTV
Kim Parlee is a Vice-President at TD Wealth – the host of CTV and BNN Bloomberg's MoneyTalk and editor-in chief of MoneyTalk's on line magazine (www.moneytalkgo.com) an online magazine about money, investing, and all things that happen in our lives – real life and real financial insight on how to be healthy and wealthy.
Prior to joining TD in 2012, Kim was a news anchor and well-known personality on Canada's Business News Network (BNN). During her time at BNN, she conducted over 15,000 live interviews with CEOs, prime ministers, economists, and analysts and reported live breaking news and complete North American equity coverage.
Kim holds an International MBA from the Schulich School of Business and a Bachelor of Commerce degree from the University of Guelph.
MoneyTalk airs every Wednesday evening at 7:00 pm ET / 5:00 pm PT on BNN Bloomberg or online www.bnnbloomberg.ca. You can also hear Kim daily providing market updates to 680 NEWS, Zoomer Radio AM740 and the New Classical FM.
---
Click on the podcast icon to get the podcast:
Listen to the audio below:
---