Child Care in Canada
Dr. Emis Akbari, Dr. Kate Bezanson, Jean-François Perrault and Armine Yalnizyan, Moderated by Michelle Eaton
" The Economy, Children and Families – Can Everyone Benefit? "
June 15, 2021
---
---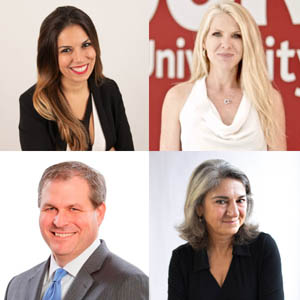 ---
Women's workforce participation has declined over the past year but the federal government's commitment to big investments in child care aims to reverse that trajectory. We've been down this road before – why is Canada-wide child care so difficult to achieve? What's different this time? What could a system look like and how will it benefit children, parents and the economy? Join Canada Club Toronto on June 15 to hear from our panel of experts as they discuss the benefits, challenges and opportunities of Canada-wide child care and early childhood education. This panel will be hosted by the YMCA of Greater Toronto and feature an introduction from CEO, Medhat Mahdy and will be moderated by Michelle Eaton, VP of Public Affairs at the Ontario Chamber of Commerce and will include:

· Dr. Emis Akbari – Professor and Program Coordinator, the School of Early Childhood, George Brown College
· Dr. Kate Bezanson – Associate Dean of Social Sciences and Associate Professor of Sociology, Brock University
· Jean François Perrault – Senior Vice-President and Chief Economist, Scotiabank
· Armine Yalnizyan – Atkinson Foundation's Fellow on the Future of Worker

Biography :
Dr. Emis Akbari
Professor and Program Coordinator, the School of Early Childhood, George Brown College

Dr. Emis Akbari is a professor and program coordinator at the School of Early Childhood at George Brown College, an Adjunct Professor in the Department of Applied Psychology and Human Development, and Senior Policy Fellow at the Atkinson Centre for Society and Child Development at OISE at the University of Toronto.

She is a behavioural neurobiologist by training and specializes in early adversity.

She evaluates policy provisions at all levels of government within early learning and child care, and is the co-author of The Early Childhood Education Report.

This report provides a snapshot of provincial and territorial preschool services and performance on quality criteria including access, investments, and learning environments in early education.

She is committed to evidence-based changes in policy and its connections to improving child and family outcome.

Dr. Kate Bezanson
Associate Dean of Social Sciences and Associate Professor of Sociology, Brock University

Dr. Kate Bezanson is Associate Dean of Social Sciences and Associate Professor of Sociology at Brock University as well as a Faculty Research Fellow at the Institute for Gender and the Economy (GATE) (Rotman School of Management, University of Toronto). She works in the areas of social and family policy, gender, social reproduction/care, constitutional law, political economy, and federalism, and is co-investigator on a 7-year, $2.5 million partnership grant investigating the best policy mix for Canadian families. She strives to bridge academic research with practicable policy approaches, and to translate this work for general audiences. Her analysis and commentary have appeared in Canadian and international print, radio and television media such as CBC, Globe and Mail, New York Times, National Post, and CTV.

Jean-François Perrault
Senior Vice-President and Chief Economist, Scotiabank

Jean-François Perrault joined Scotiabank on December 31, 2015 as Senior Vice-President and Chief Economist. He leads a team of Economists to support Scotiabank's domestic and international business lines and clients from retail to capital markets, providing Scotiabank's senior executives, business lines and customers with perspectives, insights and forecasts on economic, financial market and policy developments.

Prior to joining Scotiabank, Jean-François held prominent roles with the federal government, the Bank of Canada, the International Monetary Fund and the World Bank. His educational background includes Master's and Bachelor's Degrees in Economics from the University of Ottawa.

Armine Yalnizyan
Atkinson Foundation's Fellow on the Future of Worker

Armine Yalnizyan is the Atkinson Foundation's Fellow on the Future of Workers. She served as Senior Economic Policy Advisor for the Deputy Minister at Employment and Social Development Canada from 2018 to 2019, and currently serves on Ministers Freeland and Fortier's Task Group on Women In The Economy. She helped lead the Canadian Centre for Policy Alternatives' Inequality Project from 2008 to 2017, and provided weekly business commentaries on CBC radio and CBC TV from 2011 to 2018. She is past President of the Canadian Association for Business Economics.

Medhat Mahdy
President and CEO, YMCA of Greater Toronto and President, YMCA Ontario

Medhat Mahdy is the President and CEO of the YMCA of Greater Toronto and President of YMCA Ontario. He is driven to help the Y promote equity and boost well-being across the GTA, because he believes we owe every individual the opportunity to shine.

Medhat has an extensive background in charitable sector leadership and has been involved with the YMCA for over 40 years as a member, volunteer, donor, and leader. He holds a Bachelor Degree from the University of Toronto and has received several designations from York University, McGill University, Harvard University, and Queen's University. Currently, Medhat is Chair of the Board of Trustees for the Centre for Addiction and Mental Health (CAMH).

An immigrant who was welcomed to Canada by the YMCA as a young man, Medhat lives in Toronto with his wife and is a father and grandfather. He is a classical music fan and tennis lover who started working at the YMCA of Greater Toronto in his early twenties as a part-time tennis coach.

Michelle Eaton
Vice President, Public Affairs, Ontario Chamber of Commerce

A communications and public affairs professional for close to 15 years, Michelle Eaton joined the OCC team in 2018 as Vice President of Communications and Government Relations.

Michelle brings extensive leadership experience from both the public and private sectors. She has provided strategic direction, vision, and advice on communications and public affairs strategies to executives in multinational Fortune 500 Companies as well as senior federal cabinet ministers. Michelle is also the Chair of the Canadian Taxpayers Federation.

Michelle has a BA (Hons) in Political Science and French from Western University as well as an Executive Master of Business Administration from Ivey Business School.

Born and raised on a farm in Southwestern Ontario, she is also intimately familiar with the needs and issues of rural and small-town Ontario. Michelle currently resides in Toronto with her husband, Thor.
---
Click on the podcast icon to get the podcast:
Listen to the audio below:
---