Virtual Event: Ian Scott
Chairperson and CEO, Canadian Radio-Television Telecommunications Commission
" Times of Change: More Competition, More Choice and More Affordable Communications Services "
May 20, 2021
---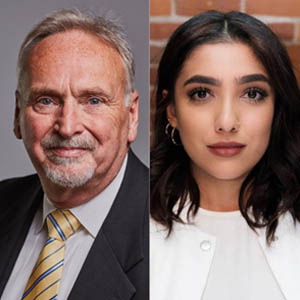 ---
Join Canadian Club Toronto on May 20 as we welcome the Chairperson and CEO of the Canadian Radio-television and Telecommunications Commission (CRTC), Ian Scott. Mr. Scott will be joined in conversation with Shruti Shekar, reporter with Android Central, as they discuss how Internet services have become even more vital during the pandemic and how the CRTC is working to improve access for Canadians living in rural and remote communities. They will also discuss the CRTC's efforts to promote more choice and affordable wireless services for Canadians, and how the CRTC responded to the new telemarketing and online scams that have emerged over the last year.
Biography:
Ian Scott
Chairperson and CEO, Canadian Radio-Television Telecommunications Commission

As Chairperson and Chief Executive Officer, Ian Scott supervises and directs the work and staff of the Commission. He also chairs Commission meetings and participates in public hearings and consultations.

Ian has over 25 years of policy and regulatory experience in broadcasting and telecommunications both in the public and private sectors.

After working at the Competition Bureau, he joined the CRTC from 1990 to 1994, where he collaborated on the development of a framework for long-distance telephone service competition in Canada. Between 2007 and 2008, as part of the Executive Interchange Program, he was Senior Policy Advisor to the Chairman at the CRTC.

Before rejoining the CRTC in 2017, Ian held various executive positions in the communications industry, including at Telesat Canada, Telus and Call-Net Enterprises, one of the first companies to offer competition in the Canadian long-distance market. He also provided leadership on broadcasting policy and regulatory issues as an executive at the Canadian Cable Television Association.

Ian has served on various boards, including Women in Communications and Technology and Ski Quebec Alpin.
Shruti Shekar
Reporter, Android Central
Shruti Shekar is a telecom and tech reporter for Android Central. She was previously at Yahoo Finance Canada, MobileSyrup, and The Hill Times.
---
Click on the podcast icon to get the podcast:
Listen to the audio below:
---